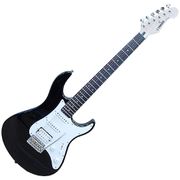 YAMAHA EG112 Electric Guitar
EG112 FACTORY SEALED, OUT OF STOCK
PRODUCT FEATURES :
Origonal YAMAHA Guitar with Metallic Black, 2 single coils, 1 humbucker.
The perfect electric guitar for those just starting out.
Supplied Accessories :
Electric Guitar
Nylon Zippered Case.
Availability: Usually ships the same business day
This Guitar has been Factory-Refurbished and cleaned to perform as new, with 90 days warranty.