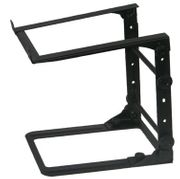 OOdyssey L-Stand M Mobile Laptop stand
BRAND NEW, FACTORY SEALED, IN STOCK
DESCRIPTION :
L STAND MOBILE - Finally, the digital DJ STAND you have been asking for; Odyssey's folding DJ LSTAND MOBILE. The Odyssey LSTAND MOBILE is a light and portable stand to place your laptop, CD-Player/Controller , EFX/Drum machines or lighting controller. Odyssey's LSTAND MOBILE comes complete with stand alone legs for a table top configuration and clamps so it can be attached to the edge of a table or the wall of your case just the way you like.
When your looking for state-of-the-art technology, look to 1001hitech.com
PRODUCT FEATURES :
Color Display Box
Storing Pouch
Folded Dims: 11"W x 3"H x 11.75"D
Expanded Dims: 11"W x 12"-14.5"H x 11.75
Max Height: 14.5"
Min Height: 12"
Actual Stand Weights Only 5 lbs (Stand w/ Clamp Mode weights 6 lbs)
Weight: 5 lbs
Shipping dimensions (exterior): 16"W x 14"H x 3.5"D
Actual Shipping Weight 8 lbs.
This product is brand new and comes complete with all manufacturer supplied accessories. USA warranty IS included.
Availability: Usually ships the same business day.