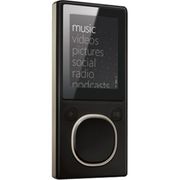 Microsoft Zune 4GB 2nd generation MP4/MP3 Player Black
BRAND NEW, FACTORY SEALED, IN STOCK
DESCRIPTION :
Super slim and ultra-portable, Zune 4GB makes it easy to take your music, videos, pictures, and podcasts wherever you go. Wirelessly share full-length tracks, playlists, pictures and podcasts with your friends. Listen to your favorite radio station with the built in FM tuner or wirelessly share tracks with your friends to discover new music on the go. Browse the Zune Marketplace to choose from millions of songs, albums, DRM-free MP3s, music videos, podcasts and more.

Plug your Zune into your Xbox 360 and customize the soundtrack in your favorite games. You can also stream content in Zune software to your Xbox 360 using a wireless connection.
When your looking for state-of-the-art technology, look to 1001hitech.com
PRODUCT FEATURES :
Touch controls
wireless sync
Wireless Zune-to-Zune sharing
Recorded TV or movies to go
Built-in FM radio.
Supplied Accessories :
Microsoft Zune 2nd Generation 4GB Media Player (Black)
GGI Travel Charger for Zune at home or anywhere using a regular wall outlet
Mack Three Year Warranty Certificate for portable audio/MP3's.
This product is brand new and comes complete with all manufacturer supplied accessories. USA warranty IS included.
warranty: ONE YEAR .
Availability: Usually ships the same business day