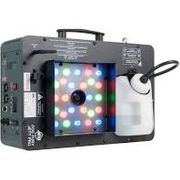 American DJ Fog Fury Jett Pro 1550W Fog Machine
BRAND NEW, FACTORY SEALED, IN STOCK
DESCRIPTION :
The ADJ Fog Fury Jett Pro is a high velocity vertical Fog Machine that mixes color into the fog from 28x 3-Watt LEDs (6 Red, 7 Green, 6 Blue, 3 Amber & 6 UV LEDs). The Fog Fury Jett Pro produces a dry even blast of fog over 40 feet (12 meters) in the air. It has a special heating element design that uses an oil type transmission throughout the pipeline to prevent clogging. It is also equipped with a high performance Italian pump system for optimum output. ADJ's Electronic Thermo Sensing (ETS) technology is on-board to maintain optimum heat levels with short warm-up time between fog blasts.
When your looking for state-of-the-art technology, look to 1001hitech.com
Wireless remote included
Output: 40,000 Cubic Feet Per minute
Heater: 1450 Watts
Consumption: 1550 Watts
8 minute heat up
Water-based fogger.

This product is brand new and comes complete with all manufacturer supplied accessories. USA warranty IS included.

availability: Usually ships the same business day

warranty: 1 year.